Welcome to the Gamera Human-Powered Helicopter Project
Achievements
2013 Best Paper in Advanced Vertical Flight, "Control and Stability Characteristics of Gamera II: A Human Powered Helicopter" - 69th American Helicopter Society Forum, Phoenix, Ariz.
2012 Best Paper in Aircraft Design, "Design Optimization of Gamera II: A Human Powered Helicopter" - 68th American Helicopter Society Forum, Fort Worth, Tex.
2012 Igor I. Sikorsky International Trophy, American Helicopter Society
2012 Fédération Aéronautique Internationale Certified World Record for Flight Duration
2012 National Aeronautics Association U.S. National Record Certificate for Flight Duration
2012 Fédération Aéronautique Internationale World Record Certificate for Flight Duration
2012 National Aeronautics Association U.S. National Record Certificate for Flight Duration
2011 Fédération Aéronautique Internationale Certified World Record for Flight Duration by Female Pilot
2011 National Aeronautics Association Collier Trophy Nominee
2011 American Helicopter Museum Education Center Achievement Award
2011 National Aeronautics Association World Record Certificate for Flight Duration
2011 National Aeronautics Association World Record Certificate for Flight Duration by Female Pilot
2011 Dedication of Gamera I Vehicle Elements to College Park Aviation Museum

Gamera Team Breaks New Ground in Duration and Altitude
For Gamera updates, visit the Team's Twitter feed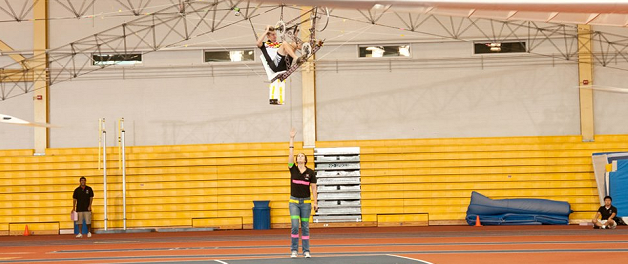 Above: Gamera II Team Soars to New Heights with Flights Over Nine Feet!
The team also surpassed the Sikorsky Prize requirement of a 60-second flight and has achieved
a Certified World Record of 65.1 seconds!

Above: Video summary of all of the team's progress up until now,
and a layout of what they are currently working on.
FAI world record certification website

The Gamera Project is a student design challenge inspired by the AHS Sikorsky Prize and involving students of the Clark School of Engineering and faculty advisors from the the Alfred Gessow Rotorcraft Center in the Clark School's Department of Aerospace Engineering.
The team flew Gamera II, the latest project, in June, August and November of 2012. It is a lighter and stronger refinement of Gamera I, designed for greater flight duration. Gamera II was sanctioned to make an official flight duration record attempt by the National Aeronautic Association (NAA). On August 9, 2012, NAA announced that on June 21, 2012, Gamera II set a new official U.S. record for flight duration of 49.9 seconds. The association is submitting the flight for world-record review by the Fédération Aéronautique Internationale.
Gamera I flew in the summer of 2011, setting world records for flight duration at 11.4 seconds.
More videos:
8-foot-high flight, 9.4-foot flight and ABC News video
Special Thanks
The team wishes to thank Dean Darryll Pines for sponsoring the Gamera Project, Inderjit Chopra and V.T. Nagaraj for serving as advisors, other human-powered helicopter projects around the world for providing inspiration and competition, and the thousands of well-wishers who continue to cheer us on.