Gamera I Sets World Flight Duration Records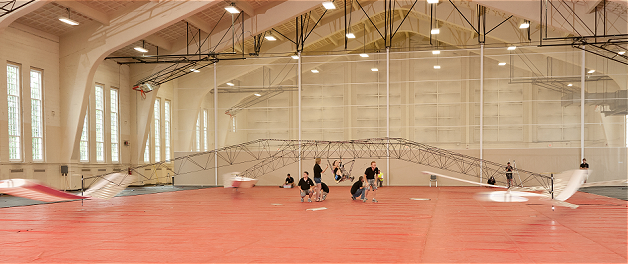 July Gamera I flight sets two world records. Photo: Earl Zubkoff, Essential Eye Photographics.
On July 13, 2011, in the Reckord Armory on the campus of the University of Maryland, the human-powered helicopter Gamera, designed and built by graduate and undergraduate students of the A. James Clark School of Engineering and piloted by biology student Judy Wexler, achieved lift-off and hovered for 11.4 seconds, setting new world records for duration of a human-powered helicopter flight and for duration of a human-powered helicopter flight piloted by a woman, as certified by the Federation Aeronautique International, Lausanne, Switzerland, on November 17, 2011. On May 12, 2011, in an auxiliary gym of the Comcast Center, the Gamera team first set records in these same categories with a 4.2-second flight.
To view the July 13 and May 12 flights, please click on the video links below. For more information about Gamera, the team, and the Sikorsky Prize, please follow the links at right.
Our thanks to the thousands of people who have followed our flights, provided suggestions, and wished us well. The team is now at work on an enhanced design called Gamera II and plans to fly in June 2012.