About the Alfred Gessow Rotorcraft Center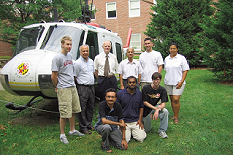 Since 1982, the Alfred Gessow Rotorcraft Center at the University of Maryland has been one of the three Rotorcraft Centers of Excellence, supported for most of the years by the Army Research Office (1982-95) and later on by the Army/NASA National Rotorcraft Technology Center (1996-2006). The Center carries out multidisciplinary/ interdisciplinary research on various aeromechanics disciplines of rotorcraft systems.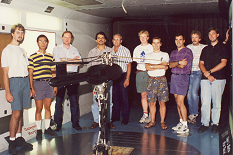 The core rotorcraft program involves aerodynamics, dynamics, flight mechanics, CFD, acoustics, transmissions and composite structues. In addition to the core program, there were two major Army-sponsored research programs in smart structures: an interdisciplinary University Research Initiative (URI) entitled "Innovations and Applications of Smart Structures Technology to Rotorcraft Systems" (1992-97) and a Multidisciplinary University Research Initiative (MURI) entitled "Innovative Smart Technologies for an Actively Controlled Jet-Smooth Quiet Rotorcraft" (1996-2001). Both smart structures programs were carried out at the Center. Under these programs, numerous scaled rotor models have been designed, built and tested on hover stand , in our vacuum chamber and in our Glenn L. Martin wind tunnel to evaluate their performance under different flight conditions.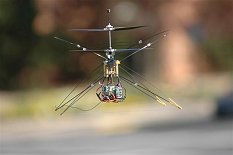 As part of the URI, the basic elements of smart structures pertaining to rotorcraft were being developed. Much of the research was directed towards development and refinements of: hybrid material actuators, magnetostrictive particle actuators, electrostrictive actuators and shape memory alloys actuators; sensors such as fiber optics; smart dampers such as electro-rheological and magneto-rheological fluid dampers; distributed control strategies such as wavelet theories; and analytical modeling of smart structures. Another key component of this research was focused on the development of Froude-scaled smart rotor models: controllable twist models incorporating embedded piezoceramic elements, and trailing-edge flap models actuated with smart actuators, to minimize vibration.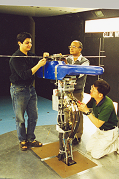 The MURI program further expanded the technology base of smart structural elements by examining new innovative actuators, sensors and control strategies, and addressed high-payoff applications to rotorcraft to suppress external/internal/ transmission noise and vibration. Most importantly, this research program contained the next and vital step in the practical application of smart structures technology to suppress noise and vibration in full-scale systems by building Mach-scaled rotor models and testing them on our hover stand and in an anechoic wind tunnel. It was a collaborative effort between the University of Maryland, Cornell University and Pennsylvania State University. The Center also collaborated with Boing Helicopters-Mesa and Sikorsksy Aircraft Company in their development of full-scale smart rotor systems.
In 2004, the center won an Army-MURI entitled "Micro Hovering Air Vehicles: Revolutinary Concepts and navigational Advancements" (2004-2009). The objective of this multidisciplinary research program is to rapidly accelerate the development of the next generation of hovering micro air vehicles. They will be equiped with biologically-inspired navigation, guidance and collision avoidance algorythms in support of a variety of DOD applications. This is a collaboration effort between the University of Maryland, Australian National University and North carolina A&T University.
Mission of Rotorcraft Center
To advance rotorcraft technology through:
Provide an exciting and effective educational environment to train the next generation rotorcraft engineers
Carry out inter-disciplinary, multi-disciplinary basic research in rotorcraft
- Timely solution of technical barrier problems
- Introduce innovative and disruptive technologies
Speedily transfer technology to industry and government laboratories
Vital Statistics
Faculty: Rotorcraft 9
Faculty: Non-Rotorcraft (MURI) 7
Research Scientists/ Visiting Prof. 9
Graduate Students 64
M.S. Degrees awarded 11
Ph. D. Degrees awarded 6
Presentations at Conferences 80
AHS (28), SDM (10), SPIE(12), Other (30)
2007 AHS Forum 16
Journal Publications:
Published 40
Accepted 49
2007 Vertical Flight Scholarships 5
National & International Impact
Publications in Archival Journals and Presentation at Helicopter Conferences: Especially AHS.
Graduates: Extremely successful in academia, industry and federal laboratories, For example at recent American Helicopter Society Annual Forum, every fourth paper was from or had roots in Maryland.
Significant technology transfer to industry and government via publications and presentations, trained graduates and comprehensive codes and cooperative arrangements.
AGRC Future Directions
Expand & nurture core rotorcraft program
- Maintain balance between theory & expt.
- Tackle barrier problems systematically
Expand micro air vehicle program
- flapping and rotary-wing
Brownout/whiteout: comprehensive program
Exploit advanced CFD methodology
All electric/hybrid rotorcraft: Basic studies